SOLAR TRAINING| SOLAR PANEL TRAINING
FREE SOLAR PLANT INDUSTRY VISIT
With "Govt. of India" Certification
ENROLL NOW FOR
SOLAR PANEL INSTALLATION TRAINING
Our Government decided to provide "solar training" to people in this field to achieve the result of top ranking solar energy generation in the world.
The scope for Solar Energy in India is increasing day by day. Tamilnadu, Rajasthan, Gujarat, Telengana and Andhra Pradesh are top performing states in Solar Power Sector in India. About 500 trillion kWh per annum is being received from Solar energy in our country.
Government providing lot of schemes for Entrepreneurs
and generating job opportunities to skilled candidates for solar Power Generation.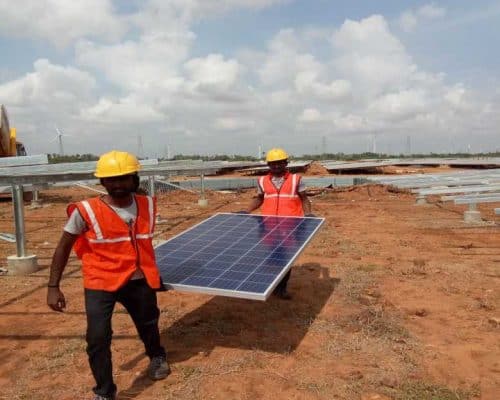 WHAT YOU WILL LEARN IN THIS SOLAR PANEL TRAINING COURSE
Introduction to Solar Power System
Solar Thermal System
Solar PV System
Ongrid/ Offgrid/ Hybrid System
Connections & System Components
Inverters Types
Solar Batteries
Wiring & Circuit Analysis
Load Calculation
Solar System Design
Return On Investment
Maintenance of System & AMC
Power Plant Erection
Civil Work
Mechanical Work
Electrical Work
Structure Analysis
Cable Laying
Earthing / Surge Arrestor
Net Meter
MSME Udyam Registration
MSME Mart Registration
Free Dealership
Marketing Analysis
CAREER OPPORTUNITIES IN SOLAR COURSE
We have lots of Career & Business opportunities in Solar Installation Training
Solar Product – Manufacturing
Solar Product – Sales
Solar Product – Distribution
Solar Product – Dealer
Solar Site Engineer
Govt. Contractor – Solar
Solar Designer
Solar Freelancer
Solar Consultant
Solar Energy Auditor
Solar Trainer
Course Title: SOLAR TRAINING
Course Duration: 1 Week
Course Fees: 7,500/-
Certification – MHRD (Govt. of India Certification)
Benefits of Solar Panel Installation Training:
MSME Company Registration,
TEDA Registration,
Loan Guidance,
Free dealership,
Material Procurement Guidance,
Marketing Guidance,
Installation Supports,
Technical Supports.
The Ministry of New Renewable energy, Govt. Of India gives 30% subsidy for On grid System and The Tamilnadu Energy Development Agency (TEDA), which is the renewable energy development arm of the State Government gives additional 20% subsidy for the same.
PMEGP: 15% to 35% Subsidy on Loan to Start a Business
Job opportunities - Solar energy in India
The Solar industry as a whole is growing fast and will play a key role in our global energy supply in the future. So working for Solar panel companies in India in Solar sector can be a good strategic choice for future career opportunities. Solar energy in India offers a wide range of attractive jobs requiring different skill sets, ranging from the technical solar design to the commercial field of the Solar panel business. Some of the job roles available in the market are listed below. 
Previous Batches Solar Training - Gallery
Frequently Asked Questions
1. What is Solar Energy?
Solar energy is radiant light and heat from the Sun that is harnessed using a range of technologies such as solar power to generate electricity & solar thermal energy.
2. What are the Types of Solar Systems?
There are two main ways to harness solar energy.
1. Solar Photovoltaics (SPV)
2. Solar Heating & Cooling / Concentration Solar Power (SHC/CSP) or Thermal system.
Photovoltaics generate electricity directly from sunlight via an electronic process (Light Energy is Converted into Electrical Energy) and can be used to
power anything from small electronics such as calculators and road signs up to homes and large commercial businesses.
Solar Thermal System use the heat generated by the sun to provide space or water heating in the case of SHC systems, or to run traditional electricity generating turbines in the case of CSP power plants.
3. What is Charge Controller?
A Charge controller , charge regulator or battery regulator limits the rate at which electric current, is added to or drawn from electric batteries.
It prevents overcharging and may prevent against overvoltage, which can reduce battery performance or lifespan, and may pose a safety risk.
4. What is Solar Inverter?
Solar inverter is a critical component in a solar energy system.
It converts DC power output into AC current that can be fed into the grid and directly influences the efficiency and reliability of a solar energy system.
Join our course and start building the most wanted career available today. We make sure every class is easily understood and that all students reach the same level of expertise needed for today's hi-tech industry.